VoIP
Finally, a telephony system built for small businesses like yours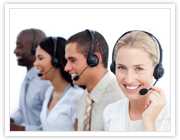 With all the technology out there for business communication, you need a cost-effective system that meets the unique needs of your company: Nothing more, nothing less. Small businesses need the same ability to stay connected as large enterprises, without the high cost of complex and tedious systems. That's why we provide complete VoIP PBX solutions from Vertical Communication, including their innovative WAVE product line.
VoIP solutions from Octia Corporation are:
Affordable - low cost with no extra setup, installation, or maintenance fees
Easy to use - including an intuitive, user-friendly interface
Reliable - your hosted system is monitored and maintained 24/7
Mobile - answer calls in other locations, via laptop or forward to a mobile phone
Green - save on travel and paper waste by sharing information online
With the new Wave IP solution from Octia Corporation's partner, Vertical, you can experience an all-in-one unified communications solutions that allows you to access the people and information you need from anywhere, anytime. With an extensive array of standard features and today's most advanced communications applications, you get everything from instant messaging and call management to visual voice mail and call recording in one, easy-to-use system with no extra hardware or software to install.
Don't settle for less than true mobility; get the power to stay connected to what matters most - no matter where your business takes you. Get started here.
Competing in a global market means utilizing the most progressive communication technology available. With VoIP installation and support from Octia Corporation, your business can gain all the advantages of advanced communication methods without the high price tag.
Contact us to find out which VoIP system is right for you.