Managed Services
Trustworthy IT management and computer network maintenance services for companies throughout Houston and across the country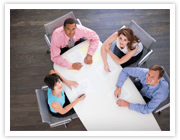 Do computer worries dominate too much of your valuable time? In today's business environment, security threats and IT support challenges can seriously set you back in the race with your competition.
With a dependable IT Management partnership with Octia Corporation, you can stop worrying in Houston, Sugar Land and Missouri City and leave all IT support and computer network maintenance issues to us.
Reliable IT Support from Octia Corporation let you:
Enjoy peace of mind - knowing your data and network are safe and protected on our watch.
Achieve your goals - with IT that promotes excellence in your field of industry
Decrease costly downtime - vigilant IT support equals higher productivity
Expect consistent costs - no surprises with consistent, flat-rate service plans
Proactive monitoring and computer network maintenance ensure your business is always safe and secure.
Octia Corporation is dedicated to providing the most cost-effective technology solution for your business requirements. Delivering excellence to businesses in Houston, Sugar Land, Missouri City, Pearland, Pasadena and Downtown Houston, we are committed to providing businesses with the IT management and computer network maintenance they need to get ahead of the competition.
If your business requirements dictate server & network security support, wireless networking solutions, network integration services, computer network installation, IT management services, IT support, network consulting, computer network maintenance services, or remote and on-site support, we have the answer.
We are devoted to removing the worry and reducing unnecessary costs in you business technology. With our reliable expert computer network maintenance, you're all set to take your business to the next level.