On Demand Services
Worry-free IT help and computer PC repair for businesses in and around Houston and throughout the nation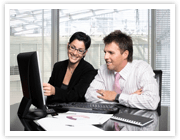 Do technology problems with your computers constantly prevent you from achieving your business goals? When you depend on computer software help from our committed staff of experts, you can move on to the more important matters of running your business.
Octia Corporation offers expert IT help and computer PC repair services in Houston, Sugar Land and Missouri City, that will help you rest easy when it comes to your business technology.
With an integral IT Solution for your business form Octia Corporation, you receive:
Your very own IT staff - reliable support and service at any time
Simplified budgeting - pay only for what you need, as you need it
Rapid service and support - minimizes costly downtime
Increased technical ability - get the benefit of higher levels of technology
On-Demand Small Business IT Support Services give you the confidence to enjoy your technology, knowing you're in good hands if something goes wrong.
Octia Corporation brings you the solutions for the paralyzing consequences experienced by your business in the face of disruption in technology. Serving Houston, Sugar Land, Missouri City, Pearland, Pasadena and Downtown Houston, our computer tech support and computer software help can streamline the way you do business and give you true peace of mind.
Whether you need remote computer support, PC diagnostics, IT help, PC technical support, computer software help & upgrade, remote/on-site PC repair, technical help, or help fixing computer problems, we've got the solution.
Using your technology doesn't have to be stressful. If you're sick and tired of the frustration over dealing with technology, our IT help experts can give you the break your business needs.