IT Consulting
Money-saving IT Outsourcing and IT Consulting for businesses throughout Houston and across the country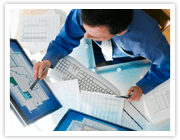 Are you getting as much out of your IT as you put into it? IT Consulting services give your business a tailor-made IT strategy that pays for itself.
Octia Corporation offers IT Outsourcing and Virtual CIO (Chief Information Officer) services that make sense for your company in Houston, Sugar Land and Missouri City, yielding real benefits from your investment.
Dependable solutions from an IT Consulting plan from Octia Corporation include:
Technology Evaluation - our team of experts seek out any flaws in your current IT system then design an investment worthy, customized strategy that works for you.
Technology Installation - with strategic planning and vendor partnerships, we deliver the right IT plan for your business to create an advanced technology solution for today and tomorrow.
Technology Regulation - we make sensible recommendations with an appropriate security plan to create a line of defense against the adverse effects of disaster.
Our trusted IT Consultants work closely with you and your team to give you the confidence that you've made a sound and long-term investment in your technology.
Octia Corporation offers dynamic Virtual CIO solutions that benefit your business for the long run. Serving Houston, Sugar Land, Missouri City, Pearland, Pasadena and Downtown Houston, we offer IT Consulting Services that can help your growing business compete in an evolving market.
Whether you need IT outsourcing, IT consulting services, outsourced IT, technical consulting services, small business server consulting, network consulting, computer security consultants, Virtual CIO (Chief Information Officer) service, or computer consultancy for small businesses, you can count on us.
We bring indispensible value to your company's core business, bridging the gap between business and technology. An expert IT Consultant approaches your technology on the basis of keen understanding and solid experience.