Business Continuity Planning
Data Backup and Disaster Recovery to defend your business in Houston and throughout the nation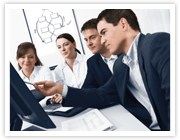 When it comes to your irreplaceable business data and the business systems you rely on, it's better to be safe than sorry. You can't predict the future, but with the right disaster recovery solution, you can get back to business fast, no matter what comes your way.
Octia Corporation specializes in the strategic data backup, computer hard drive backup, and complete hardware and system recovery that will defend your Houston, Sugar Land and Missouri City business against it all.
With Business Continuity Planning and Disaster Recovery from Octia Corporation, you can now:
Calm your fears over the impact of man-made disasters and acts of God you cannot control - we've got a handle on each and every one of your backup requirements
Quit relying on outdated and unreliable manual backup processes - with a system that's up-to-date, continual, and automatic
Minimize your risks - with a system that protects your valuable business assets
Benefit from a speedy recovery - should a disaster strike, you'll be back in business in no time
Protect it all - our protection strategies for your data, email and more ensure a speedy recovery for your business
Take a crucial step in security to protect your business against unforeseen disasters with our Business Continuity Planning backup and recovery strategy.
Octia Corporation offers the progressive technology you need to protect your company, along with the professional support you need to keep it running. With service in Houston, Sugar Land, Missouri City, Pearland, Pasadena and Downtown Houston, we make sure your business is protected from any unforeseen disaster in data backup, computer network maintenance, and computer hard drive backup.
If your business requires secure offsite data backup, virtual data recovery, remote backup service, managed disaster recovery services, virtual data recovery, file data recovery, hard drive & computer backup, online server, business continuity solutions, or offsite storage services, we have the answer.
If your business isn't protected by a secure backup and disaster recovery plan, you're putting everything on the line. Don't risk a potential downfall for you business because you did not secure a backup recovery plan.